HMS Agincourt (1914)
This entirely unique battleship was originally ordered for the Brazilian Navy in 1911 as the "Rio De Janeiro". She was laid down in 1911 by the Armstrong Elswick Ltd. Launched in 1913, she was subsequently sold to Turkish government due to financial constraints of the Brazilian Government. To raise the needed funds to purchase the battleship, the Turkish government put forth a national collection effort and raised part of the funds directly from its population. Agincourt was than refitted out with Arabic style furnishings and facilities and renamed "Sultan Osman 1." She was completed shortly after World War I started. Due to fears that she could be used by the Turks if they entered the war in favor of the Germans, Agincourt was commandeered by the Royal Navy for service during the war as part of the contract for construction of the ship. She served from 1914 through 1922 in the RN, when she was decommissioned as part of the Washington Naval Treaty of 1921.
The most unique feature of the Agincourt is her 7 center line main gun turrets. The most turrets and main guns of any battleship ever constructed. They were officially named 1-7, but unofficially named for each day of the week. Each turret housed two 12inch Mark XIII naval guns. For the time period in which she was completed her guns were of a smaller make the contemporary battleships. There was serious concern when Agincourt was finished, that if she would fire a full broadside she would break in half or sink. Though during her service in the 1st Battle Squadron during World War I, she participated in the Battle of Jutland and fire several full broadsides with only a few popped rivets being the only damage she received all day. The full broadside was described as "Such a ball of fire that it seemed the ship had blown up."
Beside her main armament Agincourt carried 18 6"/50 BL MkXIII guns in single casemates, 10 3"/40 QF guns, and 3 21" torpedo tubes (all submerged: 2 broadside, 1 stern)
Agincourt also had two major flaws in her compartment construction and her armor compared to other period battleships and cruisers. She was not very compartmentalized even by British standards. If she would have received damaged in battle, it would have been much harder for her isolate or stop flooding. Her armor was also considerably thinner for a battleship of her design & size, with her main armor belt being on 9" compared to British and German ships of the period being at least 12". These faults are a major reason why she was easily given up after the Washington Naval treaty. It is easy to theorize that these faults were mainly due to the fact the Agincourt was never designed to take on British or German 1st rate battleships but to battle similar and older vessels serving in the other navies of South America.
She was initially an unpopular ship with British crews because item's in the ship being mislabeled and the lavatories being Arabic style.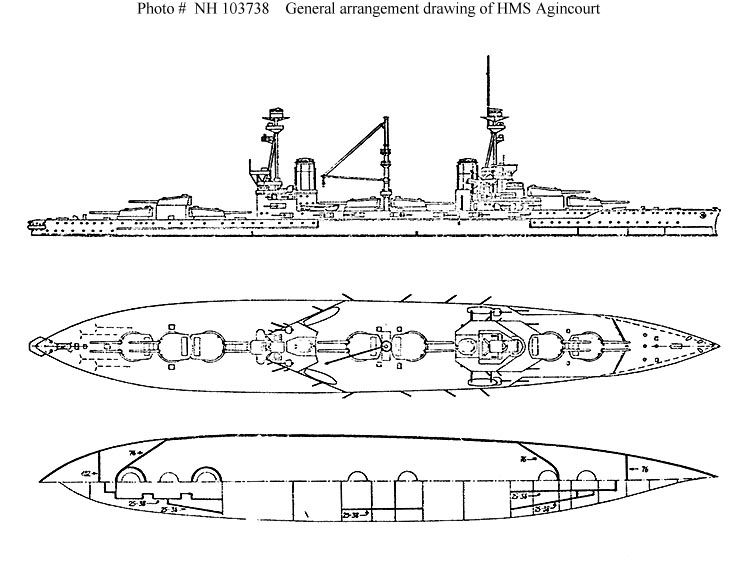 Dimensions
Length: 670'9", Beam: 88'9", Draft: 26'9", Displacement 27,500 std./ 30,250 full
Crew: 1,267
Propulsion
Engines: 4 Parsons steam turbine by Vickers
Boilers: 22 Babcock & Wilcox (coal & oil fired)
Shafts: 4, Shaft Horse Power: 34,000
Speed: 22 kt, Range: 7,000 nm at 10 knots.