Hello all,
Let's begin at 1020 hours on 27 May, the Bismarck is a floating wreck and Tovey is leaving the battlefield. At this time the Dorsetshire, which had remained on Bismarck's starboard quarter during the whole gunnery engagement, closed the range and fired two 21-in. MK VII torpedoes from about 3,500 yards at the starboard side of the German battleship. Then, she turned around, and
at 1036 hours fired another torpedo from 2,500 yards against the

port side
. The Bismarck rolled over and sank at 1039.
Now, the following picture supposedly shows Bismarck about to capsize sinking by the stern as seen from the heavy cruiser Dorsetshire shortly before 1039, after the final torpedo was fired. We can see the ship's foremast and the bow begins to project out of the water.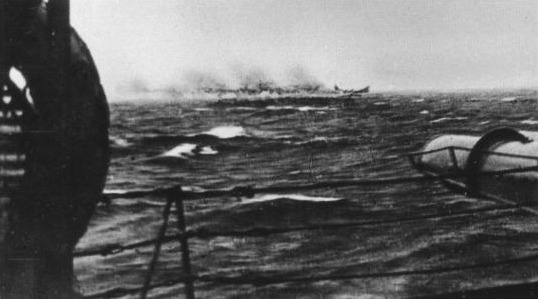 A higher resolution version is available at navweaps, right here:
http://www.navweaps.com/index_inro/INRO_Bismarck_p3.htm
Everything OK, except for the fact the we are looking at Bismarck's starboard side.
How can you guys explain that?
I look forward to your comments.