All

Admiral Jellicoe has just ordered the Grand Fleet to raise steam. +100 years

All the best

wadinga
"There seems to be something wrong with our bloody ships today!"
---
Oops
i'm so excited, I've had a premature prognostication.
Later today Room 40 will decode a signal and set the wheels in motion
All the best
wadinga
"There seems to be something wrong with our bloody ships today!"
---
Senior Member
Posts: 304
Joined: Wed Jul 06, 2011 1:00 pm
---
Senior Member
Posts: 1102
Joined: Sun Jul 16, 2006 4:03 am
Location: Kingston, Jamaica
Saluting the memory of all those who fought at Jutland in those mighty fleets....
A tremendous yet sombre anniversary - over 8500 dead and 25 ships sunk. We will remember them.
Great to see that there was an on-site commemoration with HMS Duncan meeting FGS Schleswig-Hostein at Jutland Bank. Can just imagine the feeling aboard each as they sighted each other as their predecessors did 100 years ago, then bitter enemies, now staunch allies.
HMS Galatea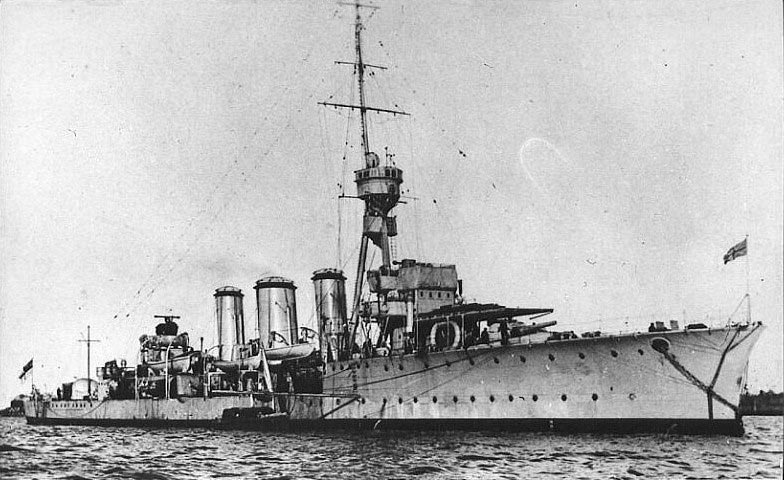 HMS Duncan
SMS Elbing
FGS Schleswig-Holstein
Qui invidet minor est - He who envies is the lesser man
---
Supporter
Posts: 3112
Joined: Sat Nov 27, 2004 9:02 pm
Location: Rocky Mountains USA
Entering a night sea battle is an awesome business.The enveloping darkness, hiding the enemy's.. seems a living thing, malignant and oppressive.Swishing water at the bow and stern mark an inexorable advance toward an unknown destiny.
---
All,
The 100th anniversary of the greatest single naval battle (the separate battles of Samar and Surigao Strait were smaller) is over.
Attended a fascinating lecture yesterday by Innes McCartney on the wrecks of Jutland, using their GPS positions to verify or adjust track charts and correct errors of navigation.
He showed the original photo from which the faked picture of Invincible "actually blowing up" was created.
https://en.wikipedia.org/wiki/HMS_Invin ... nd1916.jpg
There were two new documentaries on UK TV, one from Channel 4 featuring McCartney's new multi-beam sonar and ROV work locating 23 out of 24 wrecks, and an inferior effort from the BBC with Dan Snow. It included loading a Queen Mary model hull in a tank to simulate Seydlitz flooding to show it wasn't having one less watertight bulkhead (crude simplification) that made British ships more vulnerable. It ignored that QM was actually blown apart making the comparison completely invalid. See You Tube Battle Of Jutland: The Navy's Bloodiest Day if you can
Channel 4's is reviewed at
http://thepipeline.info/blog/2016/05/22 ... channel-4/
McCartney scrupulously follows the look don't touch principle for war grave wrecks but this article highlights that for the Jutland wrecks, others don't, and protection is frankly unenforceable. It would surely be better if the wrecks were "plundered" by responsible parties for museum relics, which would keep dead sailors' sacrifice in the public eye, rather than let them be attacked by scrap metal dealers.
http://thepipeline.info/blog/2016/05/22 ... ls-to-act/
http://www.jutland1916.com
is a fantastic resource including Admiral J.E.T. Harper's original renavigation of the battle in a series of charts. His work was suppressed by Beatty, but McCartney shows Harper and his team reconstructed from a confusing mass of reports something which the wreck positions largely support.
All the best
wadinga
"There seems to be something wrong with our bloody ships today!"
---
Member
Posts: 77
Joined: Thu Nov 05, 2015 11:42 pm
She also was wrong when she said that Seydlitz and Queen Mary had similar protection and firepower. QM had better firepower than the German battlecruiser, but Seydlitz had much better armour. And while QM could survive the damage Seydiltz received, would she've tooken more damage from German fire, consdering the German guns were smaller, but the British armour was not as good.
---
Junior Member
Posts: 6
Joined: Wed Mar 02, 2016 12:21 pm
It is hard to say if HMS Queen Mary would have survived a similar amount of damage as SMS Seydlitz, not least because her end was so swift and terminal.

Seydlitz survived because of 2 principal factors: her design features to limit flooding and her crew training in damage control.

Whilst I don't have the data to hand, Campbell's excellent book on Jutland makes the point that German ships had significantly more pumping capacity that their British equivalents. He contrasts HMS Iron Duke and SMS Konig.
So the question to debate would be given a similar amount of hull damage would HMS Queen Mary have floundered at a faster rate than Seydlitz? We have here to also consider the degree of internal subdivision (which I suspect is better in Seydlitz than QM).

Captain v Egidy of Seydlitz has left a report of the crew efforts to keep the ship afloat. In this he mentions the efficient efforts of the damage control parties. It has been recorded that pre war German ships practiced steaming with compartments deliberately flooded so the crews had experience of the reduced stability of the ship. K v Egidy records how damage control parties repaired electrical circuits in blacked out compartments because they had specifically been trained to do so whilst being blindfolded. He called it blind mans' bluff. Contrast this with the record of the sinking of HMS Prince of Wales where the damage to the aft electrical ring main and lack of lighting is noted as a handicap to the attempts to save the ship.
Where as pre war German ships exercised at repairing action damage and had a dedicated Damage Control Officer (For example Commander Oels in KM Bismarck) this is not so clear in Royal Navy vessels. Richard Hough in his book on Jutland notes that the damage control officer onboard HMS Iron Duke was also the gunnery officer.
H
---
Senior Member
Posts: 1102
Joined: Sun Jul 16, 2006 4:03 am
Location: Kingston, Jamaica
Qui invidet minor est - He who envies is the lesser man
---
Senior Member
Posts: 1029
Joined: Fri Mar 26, 2010 10:25 pm
Gentlemen,
Just finished watching a repeat documentary on Jutland which stated that when Sheer realised he was up against the entire British Fleet he ordered his destroyers to attack with torpedoes to cover his turn away knowing that the Grand Fleet could not ignore the threat.
In the event Jellicoe turned his ships away 'comb' the torpedoes in order to avoid them, but the documentary inferred that had he turned his ships toward the High Seas Fleet thus combing them bow on he could have gone on to catch and annihilate the German ships.
I know its easy to be wise after the event, but any thoughts on the subject?
---
Senior Member
Posts: 740
Joined: Wed Feb 05, 2014 7:05 pm
Is it possible that he would then have closed the German DDs so fast they would have mingled with his fleet and scored multiple short range torpedo hits?
---