There has been numerous references recently to the River Plate battle. The common wisdom is that Langsdorf recklessly charged right in throwing away his advantages and getting himself in a mess. Churchill included a track chart that looks much like this: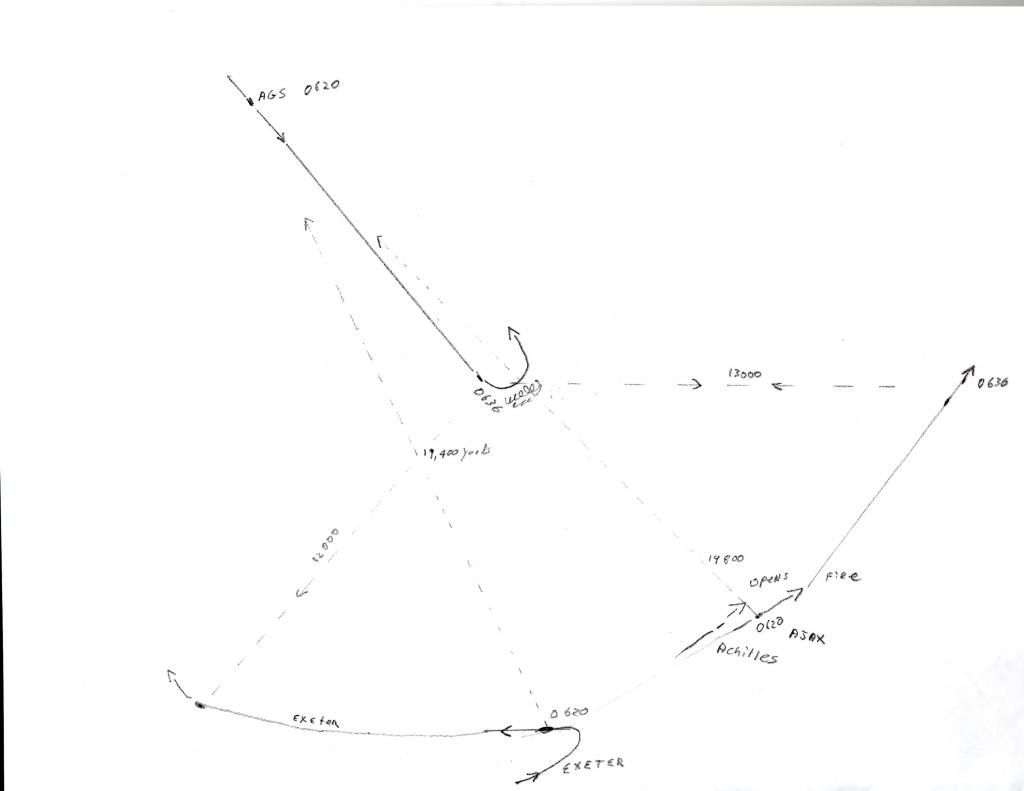 Most charts in most secondary literature are variations on this theme. There are several problems with this track chart, the greatest being that it doesn't match the movements of AGS reported by the German documents at all. The AGS movements were:
0552: Enemy in sight from the foretop , range 31,000 meters (34,000 yards). One cruiser (correctly identified as Exeter) and (incorrectly) two destroyers, proceeding at 14 knots on course 060T.
0614 Langsdorf decides to attack and calls for full speed. The resulting smoke from the diesels is seen by the enemy. This was the first the British knew of AGS's presence.
0615 AGS turns on to course 097T
0617 After completing its turn AGS opens fire on Exeter from a range of 20,600 meters ( 22,500 yards).
0617-0623 Exeter makes a 225* turn to starboard coming around on to course 275T. AGS follows Exeter through its turn with its fire, straddling it repeatably, and scoring 4 direct hits, and three damaging near misses. Exeter straddles with its salvos numbers three and four, and scores two deck hits on AGS.
0626-0631 AGS turned to its port to course 060T and then to 005T to stop Ajax and Achilles from crossing its T. AGS shifts fire to the light cruiser, since it is believed that Exeter is incapacitated.
0634 AGS turns additionally to port, coming to course 320T. It shifts the fight from starboard to port and shifts fire back to Exeter, scoring three more direct hits. AGS is hit in the foretop by a 6" shell from about 16,000 meters battle range. This hit knocks out its foretop firecontrol station. foretop rangefinder, and radar set.
0638 AGS turns to course 283 and lays a smoke screen against Ajax and Achilles which are on its port quarter at 16km range.
I tried to scan a copy of the geftchskizze but I couldn't get in a presentable size on the scan. Here is my own drawing of the gefetchskizze to scale and reported speeds: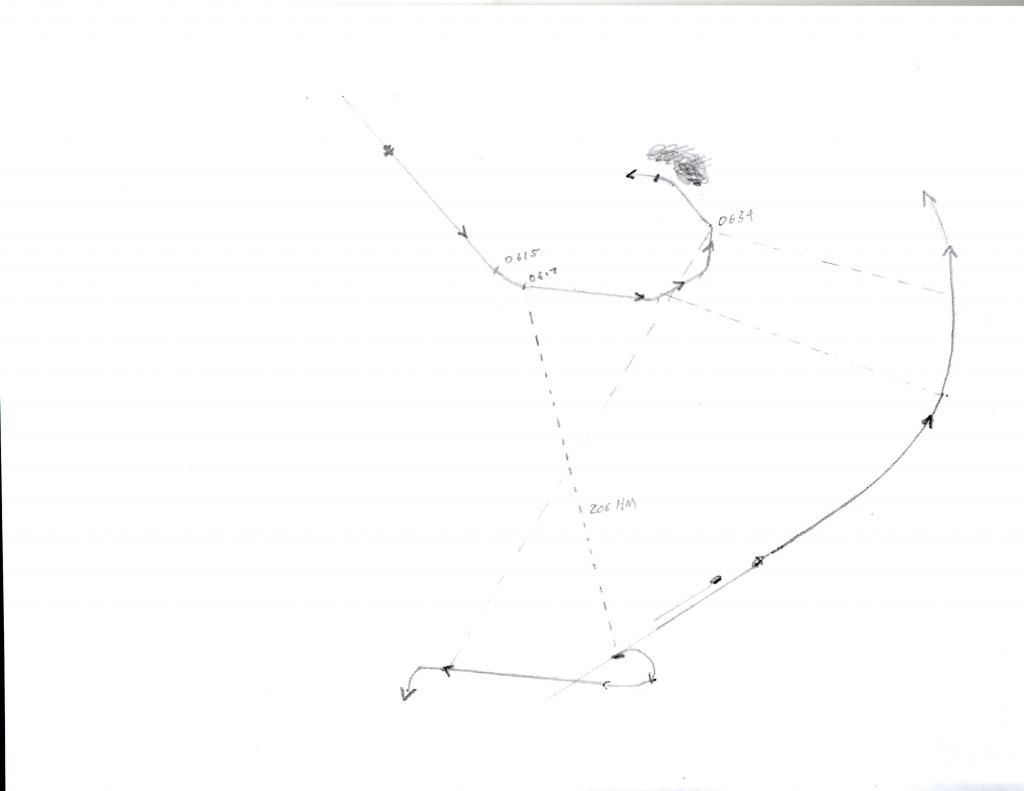 From this is it is apparent that Langsdorf never let the battle range fall into a short range battle up to his turn away at about 0640 hours. Some 40 minutes later, the British had closed the range (AGS to Ajax), to about 7,000 meters, by using their superior speed, aided by a series of turns by AGS. The range then increased to 13 miles as AGS continued to retire to the westward and the British fell back to shadow. However, AGS still straddled the British cruisers from that range and the British fell back further to 31,000 meters.
There are problems with the German chart as well, but it is much more correct than most.