Senior Member
Posts: 1043
Joined: Fri Mar 26, 2010 10:25 pm
Gentlemen,
What was the difference between the German MG 34 and the MG 42?
---
Member
Posts: 249
Joined: Thu May 10, 2007 2:35 am
Location: Phillipsburg, NJ - USA
MG 42 was made up of stampings with much less machining & looser tolerances. It had a huge rate of fire. Both were very good!
"I will not have my ship shot out from under my ass!"
---
Senior Member
Posts: 1321
Joined: Sun Oct 02, 2005 11:14 pm
Location: buenos aires
A little late for answering! The mechanisms are different. The MG-34 has a turning bolt, that locks to the barrel extension with a quarter turn, D4 is the rotating part.
The MG-42 has a lug locking system, the two cylindrical pieces (one of them has a 2 stamped) are pushed to a recess on the barrel extension for locking;
Barrel changing is simplified too. In the MG-34: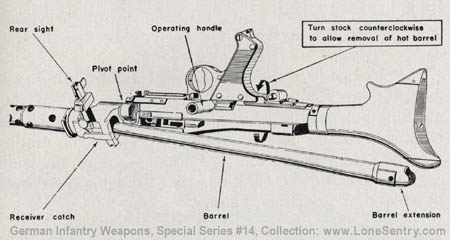 This is how this was made in the MG-42:
---
Senior Member
Posts: 1209
Joined: Sun Mar 06, 2011 1:06 am
..... And the MG42 design still proudly soldiers on in the 21st century.

Byron
---